F79 Primitivo Di Manduria 2010
Introduce:
F79 Primitivo di Manduria is one of 3 super wine bottles of Tinazzi Generation product set. F79 Primitivo di Manduria uses 100% Primitivo grape variety. The harvested grapes are fermented by placing in new oak barrels within 8 months.
Manufacturer: Tinazzi - Italia
Selling location:
Showroom 1: B2-08A KDT Vinhomes Gardenia, Ham Nghi Street, P. Cau Dien, Nam Tu Liem, Hanoi
Hotline: 086 863 8888
Showroom 2: 183 Trung Kinh, Yen Hoa, Cau Giay, Hanoi
Hotline: 033.23.88888
Description
F79 Primitivo Di Manduria 2010
Category: Red wine

Grape variety: Primitivo di manduria

Alcohol: 15% vol

Capacity: 750ml

Packing specification: 750ml x 06 bottles/box

Origin : Tinazi
F79 Primitivo wine is a premium wine, quality. It is produced by the great delicious primitivo grape and the famous TINAZZI wine producer. This red wine F79 2010 is specially prepared than other wine bottles. The carefully selected grapes are then fermented carefully in steel barrels at a temperature of 24 degrees C. Then continue to be fermented in oak boxes.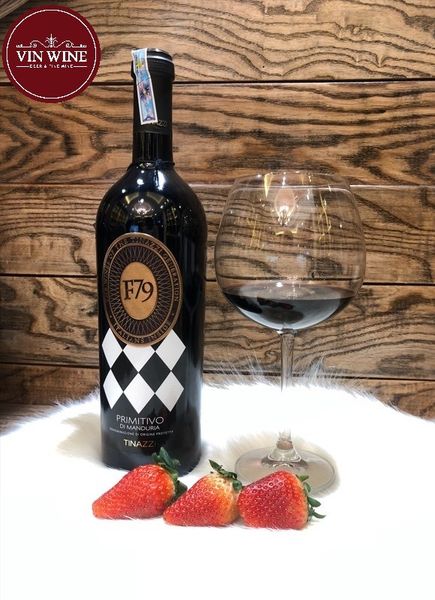 Overview
High quality F79 2010 wine is stored in a glass bottle. Vibrant dark red wine vigorously deepens like ripe plum color. The label of the bottle is black, white and red. Looking at it, it gives me the feeling that this wine bottle is very luxurious, delicate, beautiful feeling and good look.
The alcohol content of F79 wine bottle is 15%. This is said to be the standard concentration of premium wine bottles. Combined with the fermentation process longer than the other bottles, this bottle has a very special flavor. It is a charming and charming taste with a gentle, serene smell of ripe plum and fruit jam.
When enjoying this premium Italian wine, you need to open the button three hours before or Decante before drinking. It will be great when you share with grilled meat, butter, cheese.

Italian wine bottle has an elegant and noble style. It is suitable for high class VIP parties. It could also be for an important family meal. It is also the most ideal gift we suggest for you!
Selling location:
Showroom 1: B2-08A KDT Vinhomes Gardenia, Ham Nghi Street, P. Cau Dien, Nam Tu Liem, Hanoi
Hotline: 086 863 8888
Showroom 2: 183 Trung Kinh, Yen Hoa, Cau Giay, Hanoi
Hotline: 033.23.88888