Santalba Amaro 2014
Introduce:
Santalba Amaro 2014 is a product of the Santalba family - Spain, produced from Temprillano grape varieties combined with Garnacha. There is a distinctive red color of wine produced from two varieties of Tempranilo and Garnacha. Strong, charming, multi-flavored, rich in minerals and calcium, many tannins. This bottle of wine will promote all the deliciousness when used with dishes made from red meat such as beef and lamb. The best enjoy temperature from 18 to 20 degrees C.
Origin: Santalba - Spain
Selling location:
Showroom 1: B2-08A KDT Vinhomes Gardenia, Ham Nghi Street, P. Cau Dien, Nam Tu Liem, Hanoi
Hotline: 086 863 8888
Showroom 2: 183 Trung Kinh street, Yen Hoa, Cau Giay, Hanoi
Hotline: 033.23.88888
Description
Category: Red wine
Grape variety: Tempranillo, Garnacha
Alcohol: 15.5% vol.
Capacity: 750 ml
Packing specification: 6 bottles / carton
Origin: Spain
Santalba Amaro 2014 red wine is a great wine of Spain. It is a bottle of wine that is well received by the famous wine company Santalba. The grapes that make up this bottle are carefully selected from the large and small vineyards in the Rioja region in the 2014 crop year, created at the hands of experienced winecrafts. With a delicious taste, this bottle of wine is easy to get into your heart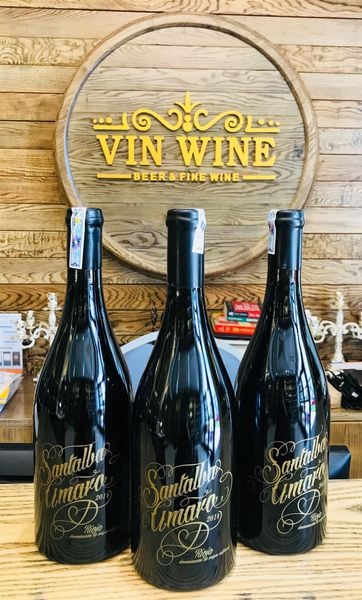 Vang Santalba Amaro is very aristocratic. The main color of the bottle is pure black. On the bottle there is a very nice wine name. The golden word was written like a flying dragon.
This bottle of wine has a concentration of 15.5%. This is a very reasonable, moderate concentration. It is special for red wine. When you taste this bottle you will feel a great feeling like getting lost in a dreamy, beautiful forest. Including gentle aroma of oak, fresh grass and sweetness of tropical fruits. Santalba Amaro Spanish Wine 2014 will bring out the best when used with dishes made from red meat like beef and lamb. Of course, it must be at a reasonable temperature from 18 to 20 degrees Celsius.
Selling location:
Showroom 1: B2-08A KDT Vinhomes Gardenia, Ham Nghi Street, P. Cau Dien, Nam Tu Liem, Hanoi
Hotline: 086 863 8888
Showroom 2: 183 Trung Kinh street, Yen Hoa, Cau Giay, Hanoi
Hotline: 033.23.88888