Moscato D'Asti Capetta
Introduce:
Moscato D'Asti is a fairly light wine bottle that makes an appetizer for every party.
Manufacturer: FRANCESCO CAPETTA - ITALIA
Selling location:
Showroom 1: B2-08A KDT Vinhomes Gardenia, Ham Nghi Street, P. Cau Dien, Nam Tu Liem, Hanoi
Hotline: 086 863 8888
Showroom 2: 183 Trung Kinh, Yen Hoa, Cau Giay, Hanoi
Hotline: 033.23.88888
Description
Moscato D'Asti Capetta
Origin: Piedmont - Italia
Grape line: Moscato bianco
Concentration: 5.5% Vol
Colors: Straw yellow
Category: White wine
Specification: 750ml x 6 bottles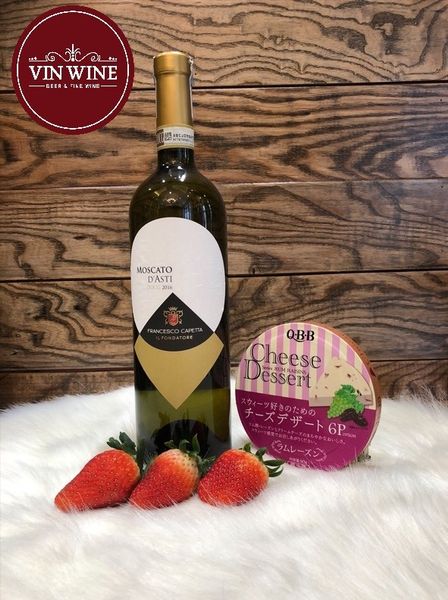 Moscato d'Asti is a white wine belonging to the DOCG category mainly produced in Asti province, northwestern Italy, and in smaller areas of the province of Alessandria and Cuneo. The bottle has a sweet taste and low alcohol content, which is considered a dessert wine. Made from Moscato bianco grapes, this mature grape is often ripe early and produces a variety of wines such as: light and dry, a little sweet and foamy sparkling wine.
This Moscato D'Asti Capetta wine has a sweet fresh taste of ripe plums, cherries, and grapes. So it is very easy to enjoy and combines very well with Cake or fruit. Drink immediately when opening the lid without using decanter or open the front cover, best used at temperatures 18 to 20 degrees C.
Selling location:
Showroom 1: B2-08A KDT Vinhomes Gardenia, Ham Nghi Street, P. Cau Dien, Nam Tu Liem, Hanoi
Hotline: 086 863 8888
Showroom 2: 183 Trung Kinh street, Yen Hoa, Cau Giay, Hanoi
Hotline: 033.23.88888