CARDINALE Primitivo di Manduria 2013
Introduce:
Cardinale 2013 Primitivo di Manduria the sweet aroma of dried sweet grass & fruit jam
Manufacturer: Feudi Salentini S.R.L
Selling location:
Showroom 1: B2-08A KDT Vinhomes Gardenia, Ham Nghi Street, P. Cau Dien, Nam Tu Liem, Hanoi
Hotline: 086 863 8888
Showroom 2: 183 Trung Kinh street, Yen Hoa, Cau Giay, Hanoi
Hotline: 033.23.88888
Description
CARDINALE Primitivo di Manduria 2013
Category: Red wine
Grape variety: Primitivo di manduria
Alcohol: 14,5% vol.
Capacity: 750ml
Packing specification: 750ml x 06 bottles/box
Origin : Feudi Salentini S.R.L Italy
Cardinale wine is a bottle of wine produced by the famous long-time wine company Feudi Salentini S.R.L. Although being born late but Cardinle wine in 2013 has no small impact. It is a widely loved wine bottle in Italy in general and in many parts of the world in particular. This bottle has really shown its class in the world wine market.
The Cardinale Primitivo Di Manduria wine has a pure black bottle. Attractive red ruby ​​wine. Label the bottle and cork in light gray and red colors. Make this bottle with simple beauty but sophistication and elegance. Its concentration is 14.5%. This is considered moderate concentration, easy to drink. Suitable for most people.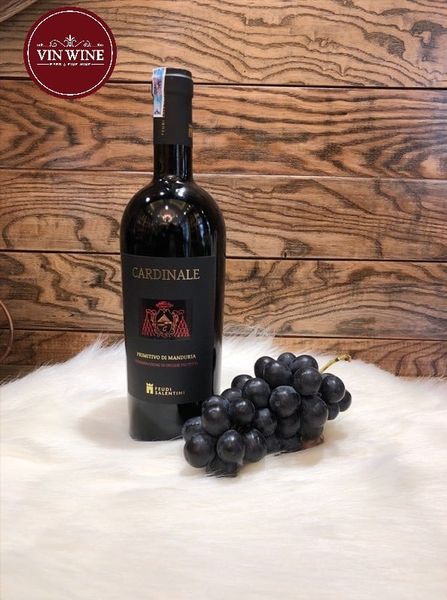 This cardinale bottle has a gentle, pleasant aroma that makes people comfortable to relax. Taste of great wine, enchanting. This wine bottle can confidently conquer the most demanding customers. Besides this culinary value, it also works to help people relax, relax, reduce stress.
Combined
This Cardinale red wine can be drunk, can also be combined with snacks to increase the flavor of the bottle. Before drinking, use a decanter to either shake it or open the cork for about an hour.
A bottle of cardinale red wine is a great idea for you after hard working days. It is also very suitable for special meals or parties. This Italian wine bottle is also a perfect gift.
Selling location:
Showroom 1: B2-08A KDT Vinhomes Gardenia, Ham Nghi Street, P. Cau Dien, Nam Tu Liem, Hanoi
Hotline: 086 863 8888
Showroom 2: 183 Trung Kinh street, Yen Hoa, Cau Giay, Hanoi
Hotline: 033.23.88888